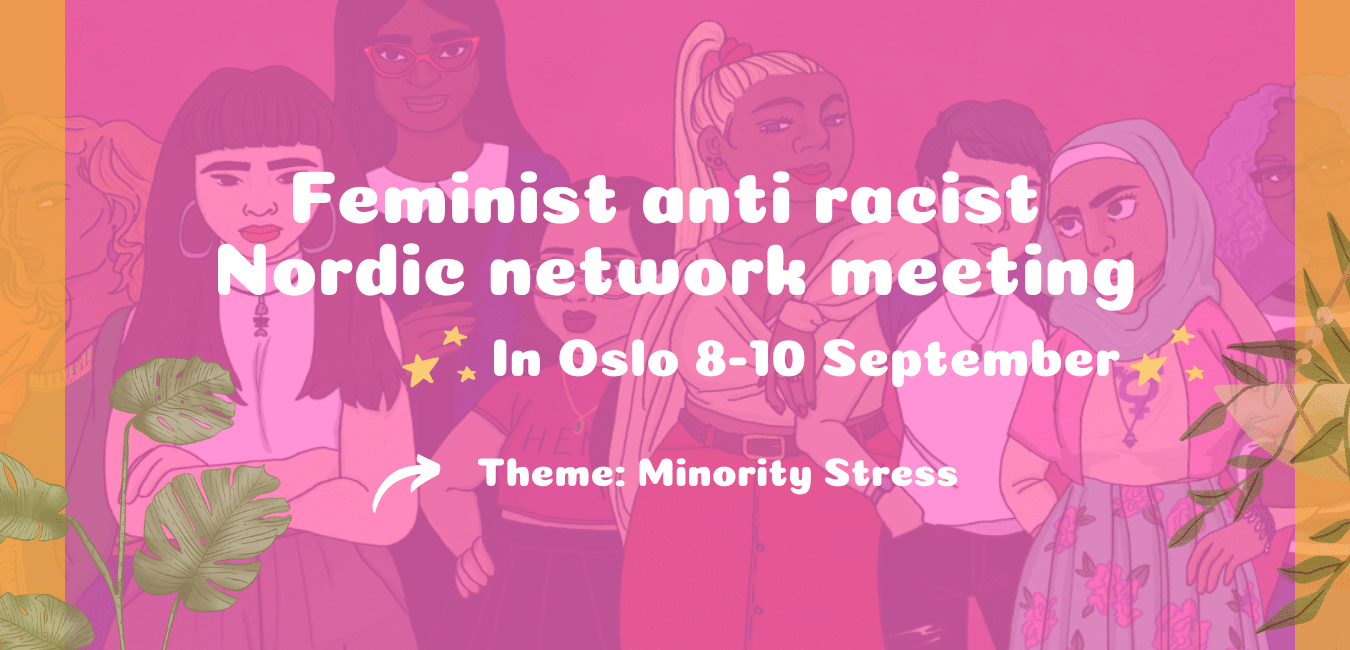 Feminist anti racist Nordic network meeting: Minority stress 
Interfem invites participants who are racialized women, nonbinary and transgender activists and members to Interfems Nordic network meeting 8-10 September in Oslo.
The network meeting will focus on sustainable activism and minority stress that particularly racialized women, nonbinary and transgender activists face.
Interfem has for the past eight years established a network of racialized women, nonbinary and transgender activists. We have witnessed that some of our Nordic experiences are the same, some are quite different. We have learnt a lot through sharing experiences and together we have a massive amount of combined knowledge that we aim to share with each other. The aim of this network meeting is to strengthen the Nordic network for racialized female, nonbinary and transgender activists in Åland, Denmark, Finland, Greenland, Norway, Sápmi and Sweden.
With increased knowledge and competence about minority stress in society and in our communities, opportunities increase for measures to be properly targeted and to work sustainably and preventively with minority stress in more areas. The weekend will focus on increasing knowledge about minority stress, coping strategies and sharing experiences and knowledge.
Location: Oslo, Norway
Date and time: 8th of September 5:00 PM – 10th of September at 3 PM 2023
Cost: Free of charge, Interfem pays for travel, accommodation and food.
Target group: Racialized BIPOC women, nonbinary and transgender, all ages welcome.
Welcome to register for the event! Registration will be open until 16th of August.

Link for registration HERE!
Become a member online or at arrival:
Saturday 9th: 9:30 am – 5 pm.
Day of seminars and workshops. Dinner and evening activities.
Schedule:
Friday 8th: 5pm – 10pm
Arrival, dinner and joint evening activities.
Sunday 9th: 9:30 am – 3 pm workshop and lunch before departure.
More detailed information and program will be added.
If you have any questions, please contact: info[at]interfem.se
Interfem is an anti racist and feminist think tank and resource center that developes strategies and methods to reduce structural discrimination. For more information, visit: https://interfem.se